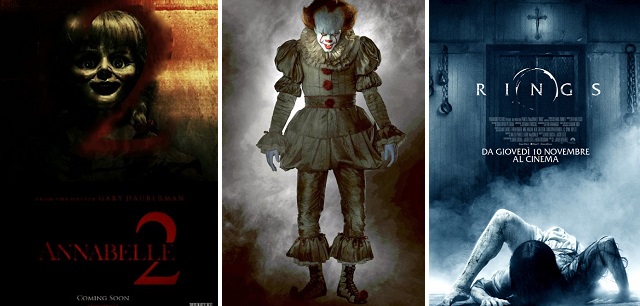 Top 10 2017 horror movies
2017 is a year of high content in horror films, some of which are already available or have been released in movie theaters.
But what are the titles of this year still in progress? Here is the list of the top 10 horror films of 2017
Top horror films 2017
The Ring 3: The famous film resumes from where it was interrupted. Those who watch the notorious video only have seven days before being killed. Who doesn't remember Samara Morgan? The famous television with the little black-haired girl dressed in white awaits you.
Annabelle 2: the most famous possessed doll awaits you in movie theaters. The new horror film promises to be a must. Directly from the director of the short film Lights Out, this time, Annabelle 2 comes from the terrifying version of The Conjuring. (a film released in 2013).
Underworld Blood Wars: : Kate Beckinsale returns to interpret the role of the notorious vampire hunter in a series beloved by the public. The sequel is eagerly awaited.
A cure for wellness :pay attention to what you want because you  may get it! This is the opening line for this horror film. A young, wealthy corporate executive will find himself imprisoned in a wellness centre that he thought was luxurious.
Alien Covenant: the world's best-known alien saga returns. A new mission and a new spaceship, a new female heroine and the same alien enemies to fight against. A mixture of horror and science fiction that is worth seeing.
The Mummy: Tom Cruise this time leads us into the enigmatic and terrifying mystery of the mummy. Monsters from the past will return to visit us in this horror remake.
IT: one of the most anticipated remakes of the year, inspired by the novel of the horror master King. Pennywise the clown promises a modern-day horror movie capable of terrorize children and adults.
Insidious Chapter 4: a sort of prequel to the first two chapters of the film, without knowing anything else for the moment.
Saw Legacy: Saw also represents one of the most sought-after expectations of this year. We're all ready to return to the world of an enigmatic game of massacre in which we try to survive and make a mendacly.
Jeepers Creepers 3 Cathedral:the demon that every twenty-three springs awakens only to prepare for the new hibernation is about to arrive in the theatres. Twenty-three exact days of hunting and nutrition, of human flesh!