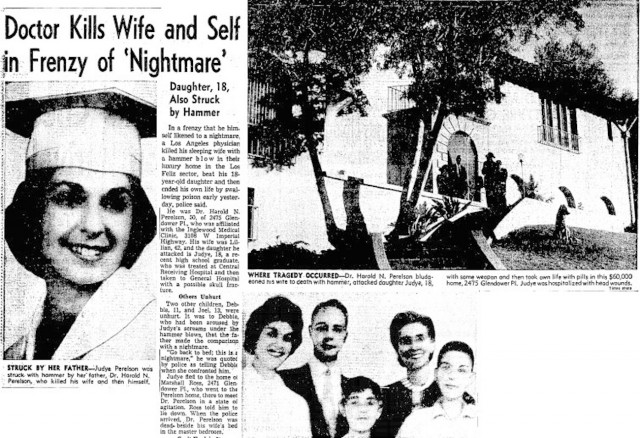 On December 6th 1959 a terrible tragedy took place in a villa at 2475 Glendower Place, in the affluent suburb of Los Feliz in Los Angeles.
The story of Los Feliz murder-suicide
At 4:30 am on December 6, 1959, the cardiologist Harold Perelson killed his wife Lillian in his sleep, hitting her with a hammer and letting her drown in her own blood.
Then he went into her eighteen year old daughter Judye 's room and tried to kill her too.
The first shot missed her, so the girl woke up and started screaming
"Don't kill me!"
The father then told her not to move and to shut up, but Judye managed to escape and alert the neighbors.
Meanwhile Harold saw his two youngest children, Debbie, 11, and Joel 13, in the hallway, awakened by the screams. He told them to go back to bed, as what they had heard was just a nightmare;
after that he took a large dose of drugs and died before the police arrived.
Possible cause
A neighbor said that the Perelson had money problems. A colleague of Harold stole his rights on a medical machine on which he had invested a lot of money and this started a legal battle.
Harold won, but managed to get back only a fraction of the money spent. Also, two years before the murder-suicide, Judye and her sisters were involved in a car accident.
Harold denounced the person responsible for it and won the case. The money he got, however, barely covered the medical expenses.
Harold attempted to commit suicide several times, and this is why his family was planning to put him in a psychiatric hospital.
To keep up appearances, however, they told friends he had a few heart attacks, and for this reason he was going tobe admitted in a hospital for tests.
Shortly before that terrible night, Judye had written to her aunt, confiding her that her parents were experiencing big financial problems.
The villa today
Harold's three daughters, the only survivors, moved away leaving the house empty for a period of time.
One year later, it was bought by a couple, Emily and Julian Enriquez, who used the property as a storage place. After the couple's death, the villa was inherited by their son, who continued to use it for storage.
It is said that inside the house there are still Christmas decorations, which belonged to the Perelson, including their Christmas tree with wrapped gifts.
The villa is well known and lots of people have traveled there to see it, and take pictures of both its indoors and outdoors. Although it's possible to spot furniture from the 50s and some gift cards, there's no trace of the Christmas tree.