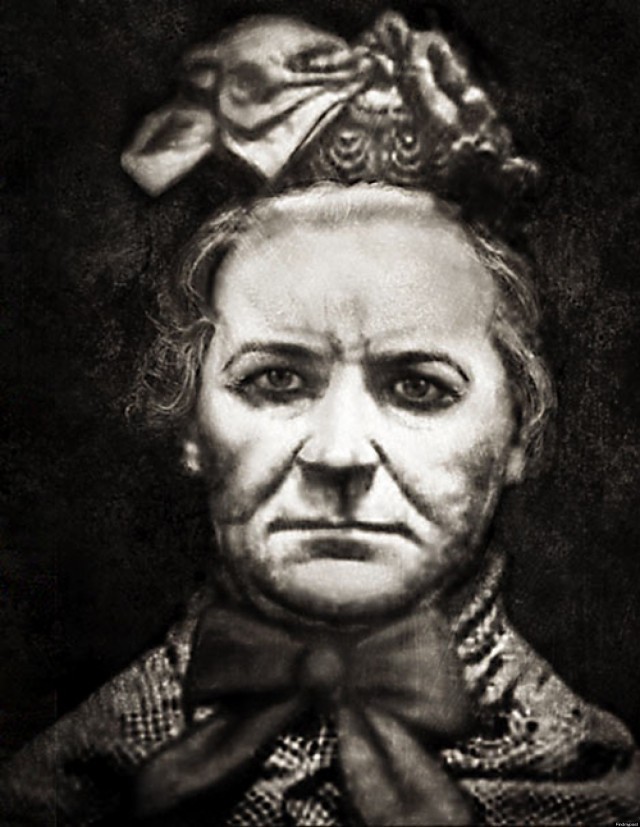 Amelia Dyer was born in 1837 and was one of the most prolific serial killer in Victorian England, earning the nickname "Jill the Ripper". She was tried and hanged for murder, but it is estimated she killed more than 400 children.
Biography
Amelia was born into a wealthy family, she had four brothers and her father was a shoemaker. The mother, after contracting typhoid, had psychological problems and Amelia took care of her until her death in 1848. Ten years later the father died.
In 1961 Amelia married a 59-year-old man and studied to become a nurse. Thanks to her friend ship with a midwife she found another way to earn money, that is, to accept illegitimate children in foster care who were later put up for adoption.
At that time to have an illegitimate child was a disgrace and the government in those years had exonerated the fathers of illegitimate children (that is, born out of wedlock) to contribute to their maintenance. 
Young women who got pregnant, then had to get rid of the baby and put them into foster care, paying someone who would have taken care of the children's adoptions. Many people began to specialize in this business, baby farming, welcoming young women and helping until their delivery.
This could be very profitable if the woman was the daughter of wealthy people who wanted to keep the birth secret.
In that case they would be willing to pay very high sums to maintain the good name of the family and cover it up.
Amelia later had a daughter, Ellen, and when her husband died in 1869 she needed money in order to take care of the little girl.
Murders
She then started not to take care of the children that she was entrusted with, making them die of hunger or sedating them with opium to make them perish.
In this way she pocketed the money and got rid of the baby. Natural mothers rarely made sure that the child was all right and usually the police classified these deaths as "weakness of the child from birth".
In 1872 Amelia remarried and had two children and began to bring her murders to another level.
If at first she did not take care of the children and made them die of hunger, she now begun to kill them immediately after receiving the payment.
For a long time she did not attract the suspicions of the police, but one day a doctor started wondering why so many deaths took place in her house, and reported it to the police.
She was not arrested, but sentenced to six months' hard labor for "negligence", but this marked her psyche.
She attempted suicide several times and each time she was interned in asylums, and this happened precisely during times when it was better for her not to be around. 
Having worked as a nurse in mental institutions she knew exactly how to behave in order to avoid heavy treatments.
When she was released the killings continued, accepting to take children into her care and then strangling them and throwing their bodies into the River Thames.
Discovery of bodies and arrest
Unfortunately for her on March 30, 1896, one of the bodies was fished out of the river and the paper used to wrap the little body still had a legible a name and an address. This led the police to Amelia but they still had no evidence to be able to prosecute her.
They put her under control and then used a young woman as bait, pretending she was a customer. When the appointment was set up, police showed up instead of the girl and they searched the house.
They found the white ribbon with which she strangled the children, the letters of the mothers who asked news regarding their children and the pawnshop's receipts where he had handed in all the clothes of the poor babies.
She was then arrested and hanged. The police thought that she had killed at least 400 children and further to each other's laws on adoptions were changed.