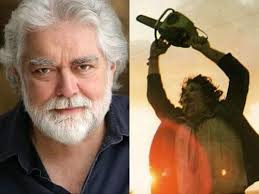 Yesterday Gunnar Hansenhas died at his home in Maine, he was the first Leatherface in the "Texas Chainsaw Massacre", and he died of Pancreatic cancer.
Gunnar was born in Iceland in 1947 but he moved to the United States when he was a child, where he later obtained citizenship.
He graduated in English and Scandinavian studies but never studied acting, though during high school he participated in drama activities.
His jobs after high school included computer operator and, for a short time, the bouncer. After graduation he became aware that a movie was to be filmed in his hometown of Austin, and decided to audition for a part.
He immediately got the part of Leatherface, and it is said that to interpret that role he studied the behavior of children with disabilities, in order to then transfer those traits to his character.
After the huge success of the film he had a role in "The demon lover" and later decided to leave acting to pursue a career as a writer.
He was offered to play the part of Leatherface in the sequel of "The Texas Chainsaw Massacre" and he was offered a part in "The Hills Have Eyes", but refused both offers and continued writing.
In 1988 he returned to acting in the movie "Hollywood chainsaw hookers" and from that moment, as well as continuing to write books, he appeared in 20 more films.
At the age of 68, he died in his home in Maine.