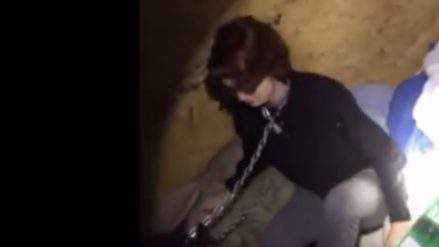 Kala Brown was kidnapped along with her boyfriend Charles Carver by serial killer Todd Kohlhepp, in August 2016. The two were lured by the killer who offered them a job on his property.
Charles was killed by Kohlhepp, while Kala Brown was imprisoned in a container by the serial killer. For two months she was chained to one of the walls of the container, having the right to only one meal a day.
Video of the liberation of Kala Brown
In November 2016, after investigations, the girl was found and rescued. Just yesterday, the video of her liberation was made public, which you can find at the end of the article.
Some videos of Kohlhepp's interrogation were also made public, where the serial killer confesses to his murders, including that of Charles. After being released, Kala filed a complaint against her attacker for kidnapping, rape and physical and psychological violence. Kohlhepp has been charged with a total of 7 murders for now, including that of a woman he had held captive for a week and killed on Christmas Day.
Kala's first words
As soon as she was found by the police, Kala told them that her boyfriend had been killed by Kehlhepp on the day of the couple's abduction. The serial killer killed the young man with 3 gunshots to the chest, then buried him in a grave not far from the trailer. His body was recovered after Kala was released.
The killer had shown Charles' grave and that of his other victims to Kala, to show her what would have happened if she had tried to escape. When the man was 15, had already been guilty of rape on a 14-year-old girl, crime for which he had been sentenced to 15 years in prison.
Here is the video of the policemen who released Kala Brown.