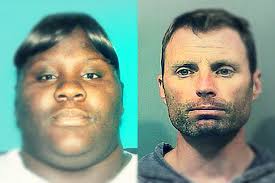 Natisha Hillard, a 27 years old American woman, has allowed a stranger, met through an Internet dating site, to abuse her child, only four month old, in exchange for five hundred dollars.
You read that right, the woman allowed the man to sexually abuse her child on at least 8 occasions during a period of 14 months, from 2011 to 2012, in exchange for a few dollars. 
The man, in addition to abusing the baby, also molestedher 3-year-old sister.
The man, Christopher Bour, 41 years, in addition to molesting the two children he was also filming the abuse that ended up on the net.
The shady deal was accidentally discovered by the man's masseuse who had been invited by the latter to take part in the abuses. The masseuse, shocked and disgusted by the actions of the man, contacted the FBI, which began an investigation. 
An agent sent a message to Christopher pretending to be the masseuse and agreeing to his request to participate in the abuse.
The agent, again posing as Christopher's masseuse, asked the man what he had already done with the girls and what he planned to do next. Once he confessed, he was arrested.
Christopher's house was searched, his computer was seized, and inside paedo-pornographic videos and photos were found.
The event took place in 2014 and Christopher's attorney asked for minimum sentenceinstead of life imprisonment, corresponding to 30 years in prison, by virtue of the fact that his client was sorry, that this was unprecedented and that he deserved a second chance.
The judge, however, was not of the same idea and ordered the man to serve a life sentence motivating his decision by saying that the crime committed had been so vile as to deserve imprisonment for life. 
The sentence for Natisha Hillard has instead just been released: the woman will have to serve a sentence of 24 years in prison.