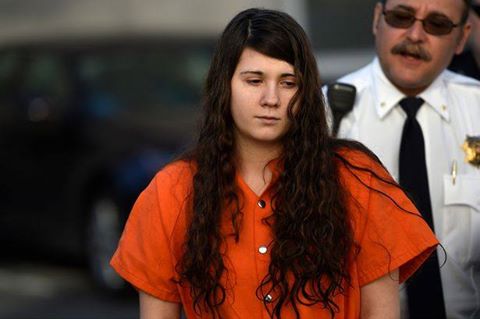 The black story we are going to tell is enlightening, unique. In fact, it eloquently and clearly sums up the often unhealthy and distorted link between man and the media. Television and the Internet are, today, the means of communication par excellence: immediate, fast, global, universal but, above all, intoxicating. Can you imagine a life without these two essential tools? Probably not.
For better or for worse, TV and the web determine, shape and condition our lives, our choices, our actions and our thoughts. Often, we don't even notice such a mechanism, exclusively sneaky and negative for some. Natural, positive and stimulating of course, but equally ambiguous for many others. Psychopaths and psychotics, of course, are also influenced by TV and the Internet. And the result can be devastating.
The case of the Barbour couple, Miranda and Elytte, contains within itself these two elements: criminal acts, therefore, directly dictated and conditioned by the Internet and television. But that's not all: social networks and videogames enrich a story of difficult reading, characterized by a strong mixture between the real and the imaginary, in which statements, conjectures and hypotheses often contrasting converge.
To complete a particularly complex and unpublished psychological and criminological picture, the parareligious component could not be missing: that acid Satanism (or "Acidism"), recurrent in many episodes of crime news, essential glue – in the role of the killer – aimed at justifying the murders, carried out according to a precise supernatural and divine will.
Miranda Barbour: childhood denied
Serial killers have many characteristics and peculiarities in common. Childhood traumas, sexual disorders, troubled childhoods, twisted (not to say broken) family situations and sexual abuse frequently recur to mark the psychology of these subjects in a negative as well as definitive and irreversible way. Miranda Barbour is no exception.
Miranda Barbour (born Miranda Kamille Dean) was born in December 1994. She lives with her parents (her mother Elizabeth and her father Sonny) and an older sister, Ashley, in North Pole, Alaska, before moving to Anchorage.
Miranda lives a tormented and problematic childhood. When she is just 3 years old (other sources indicate 4), she is the victim of sexual abuse by a paedophile uncle (the husband of Melissa, her mother's sister): the man – Richard Fernandez, a soldier serving in the United States Army – will be sentenced to 10 years in prison. Released after six years, the paedophile will end up in his cell again, in 2011, for the distribution of child pornography material. At the same time, her older sister Ashley, at the age of 6, was also the victim of abuses by his paedophile uncle. The whole family moved to the Borough of Matanuska-Susitna, Alaska. But now Miranda's psychology is irreversibly marked, wounded and compromised.
At this point, Miranda Barbour's human story takes on the connotations of an authentic criminal novel, in which reality and fiction blend seamlessly. Where does reality end and where does fiction begin? Exercising oneself within this existential labyrinth is not at all simple.
Miranda soon enters a spiral whose ingredients are drugs, prostitution, perverse sex, acid Satanism. When she is 12 years old, Miranda runs away from home and loses her virginity. She starts dating an enigmatic – though never identified – Satanist named Forrest, much older than her. Sex (including abortion) and drugs (especially heroin) accompany, from this moment, the life of the teenager girl from Alaska. According to statements made by Miranda herself at The Daily Item in Sunbury, Pennsylvania, her first murder dates back to the age of 13. An execution, a sort of initiation rite. The leader of the sect (also this never identified) must meet a man who owes him money, a moneylender: at the appointment, he also brings with him Miranda. The man is wounded for the first time by the shot fired by the leader of the sect. Miranda has to finish it: but she refuses to shoot, because
I hate guns. I don't use guns. I couldn't do it, so he came near me, took my hands in his and we pulled the trigger. And then, from there, I continued to kill.
He goes in and out of the house whenever she wants, she get tattoos of swastikas and starts talking about Satan and Satanism.
Psychiatric hospitals (at the age of 12, she pointed a knife at his sister), social services, the divorce of his parents (in 2011; Ashley stresses the absence of his mother, who, especially after the divorce and now addicted to drugs and alcohol, would have ignored and underestimated the serious psychopathology of Miranda), motherhood when she is just 17 years old, the new life with her uncles in North Carolina, in Coats, a perennial wander through the vast spaces of the United States. Miranda's existence no longer has roots or certainties.
The meeting with Elytte "Elf" Barbour
Elytte "Elf" Barbour is just the last of the many men who have entered the unruly life of Miranda with overbearance, and prematurely. The two of them meet in North Carolina, in Coats, through Aimee Vaneyll, Miranda's friend and Elytte's girlfriend. Aimee and Miranda are both pregnant and the three start dating. Miranda, as Aimee recalls, is obsessed with sex. She is said to even collect vials containing Elytte's sperm, a sexual fetish that Miranda uses to masturbate according to a bizarre ritual.
Thanks to Miranda, Elytte seems to be approaching Satanism, that confused and improvised Satanism embraced by the young girl from Alaska. It seems, precisely, because other testimonies deny this statement.
Miranda and Elytte get married, embark on an honest but precarious life, always on the edge of the precipice. They settle in Coats, North Carolina, where Elytte grew up, in a deeply relegious family, well integrated in the small community.
The neighbors – as well as friends and acquaintances – don't notice anything special, nothing that presages a murder. On the contrary, the couple looks happy. A normal couple: a house, a garden, a car. People who are solitary and eccentric, between the gothic and the dark, like many others. They will both leave the job: he, a dishwasher in a restaurant (the Ma's Grill), she, the cashier in a grocery store of the IGA chain. She seems to be fired after being caught stealing. It's October 2013. A relationship of immoral and growing complicity is established between the two, in which, however, it is Miranda who plays the role of undisputed leader: she, in fact, reveals herself to be a masterful manipulator.
Boredom and an uncontrolled lifestyle overwhelm the young couple: she is 19 years old, he is 22 (born November 11, 1991). Miranda and Elytte decide to kill.
The murder of Troy LaFerrara
How to easily lure a victim to kill? Through the Internet, the frontier in which virtual and real hide each other and in which crime and the deepest human perversions travel fast, almost uncontrolled. Miranda and Elytte design their own diabolical homicidal plan: thanks to the Craigslist website – a web for sales and various ads – they try to lure possible victims. Paid sex. Very easy. There is no shortage of customers. A couple of people respond to the ad published on November 1, 2013, by Miranda: "company for men". Attempts, however, that end in nothing.
Troy LaFerrara – 42 years old, from Port Trevorton, Pennsylvania, married since 2011 to Colleen – answer the ad. The two decide meet: they arrive at the decisive episode, the fatal epilogue.
The meeting takes place in the parking lot of Susquehanna Valley Mall, a shopping mall near Hummels Wharf, Pennsylvania. It's November 11, 2013. After payment (100 Dollars), Miranda and LaFerrara drive to Sunbury by car. On the back seat of the car, hidden under a blanket, there is also Elytte. At the agreed signal – the phrase "Have you seen the stars tonight?" – Elytte was supposed to start attacking the man, unaware of his fate. Miranda tells Troy that she is only 16 years old: a negligible detail for a man in search of sex. But not for Miranda.
Miranda pronounces the sentence twice, but Elytte is late in taking the initiative. So the girl hits LaFerrara in the leg and Elytte also takes action. Troy LaFerrara is strangled by Elytte, then stabbed twenty times by Miranda. The Barbour couple leave the man's body in an alleyway in the city of Sunbury, clean the car's interior to the best of their ability, and finally head to a strip club to celebrate Elytte's birthday.
The lives of the two young killers proceed normally. Incredibly. Miranda is very active on social networks, publishing positive and carefree status and photos on her Facebook account. Like any 19-year-old girl. Photos in which she holds her child in her arms (the father, unknown, dies in circumstances to be investigated when the child is 1 year old), others in which we can see Miranda in daily family situations.
The freedom, however, runs out in a few days: the investigators, after founding the body of LaFerrara on November 12, 2013 and after intercepting the phone calls and messages between Troy and Miranda, easily and quickly track the girl. Miranda Barbour is arrested on December 3, 2013, Elytte Barbour is captured a few days later.
Miranda, at first, does not confess to the murder. On the contrary, she rebuts: legitimate defense against a violent man, Troy LaFerrara, who would have tried to abuse the girl. Meanwhile, Elytte tells the investigators a diametrically opposed story: the lucid planning of the murder, the solicitation of the victim, the assault in the car all planned. Miranda, at that point, gives in. Premeditated intentional murder. Second-degree murder, according to the judgment of the Northumberland County Courthouse. The two, since 2014, oscillate between life imprisonment and capital punishment.
Miranda Barbour: mythomaniac or Dexter -like serial killer?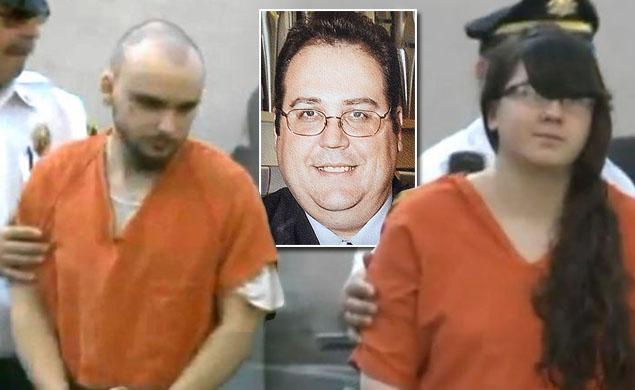 The arrest of Miranda Barbour marks a new stage in this intricate affair. The girl, in fact, refers to other murders committed over six years: Alaska, Texas, North Carolina, California and Pennsylvania would be the states hit by the murderous fury of the girl from Alaska. At least 22 murders: "I have killed dozens of people, perhaps just under a hundred. I stopped counting them after the 22nd," she says. But of these murders, except for that of Troy LaFerrara, there is no trace.
But there's more: Miranda says she kills for good. A fact emerges: both Miranda and Elytte are fans of a well-known television series. The couple is inspired by the character of Dexter Morgan, protagonist of the TV series "Dexter": not only a talented technician of the forensic police of Miami, but also a serial killer. He kills criminals who have escaped justice. Well, Miranda Barbour stands as a defender of certain values, in the name of Satan: her victims, similar to what happens in "Dexter", are pedophiles, men in search of easy sex, loan sharks, criminals of various kinds. "I've never killed by chance – she explains – but I've always killed bad people. When I found out that they were bad, there was no reason for me that they were still here among us", the chronicles of the time report. Troy la Ferrara, therefore, falls into the category of "bad" people, as he did not reject the sexual proposal of a sixteen-year-old (Miranda claimed to be 16). But in reality, Miranda and Elytte had already considered killing LaFerrara.
The bond between Miranda and Dexter is amplified and exploited by the press: a 19-year-old killer, a successful TV series, ingredients that help make ferment and kick around a itchy, tantalizing black story.
Not only: Satanism, according to Miranda, has helped her to control and manage her own homicidal impulses. A personal form of Satanism that certainly produces a murder (therefore, we are in the presence of Acidism) but, undoubtedly, characterized – so to speak – by a nuance of interiority, although confused and anything but clearly defined. Something, therefore, that goes beyond the proverbial cult of Satan found in numerous sects and as many groups of acid Satanists.
So, homicides, according to the confusing and delirious declarations of Miranda, committed with a single knife, the same weapon which inflicted the mortal blows on Troy LaFerrara.
The stories and confessions provided to the investigators, FBI agents, and the press are about heinous murders. Miranda proclaims herself a serial killer, says she is willing to indicate the places where she buried the pieces of human bodies that belonged to her victims. Florida (Mexico Beach), Alaska (Big Lake), North Carolina (Raleigh). Although the extensive investigations have never ascertained the truthfulness of Miranda Barbour's claims, the girl has many nicknames: "Super Miranda" (the murderous alter ego), "Craigslist serial killer", "real-life Dexter", "thrill kill couple", "honeymoon homicide". Captivating slogans for the masses.
Investigations and testimonies (including those of Miranda's parents and sister, Elizabeth, Sonny and Ashley), however, seem to point in one direction only. Miranda Barbour is not a serial killer, but a psychopathic mythomaniac, a manipulator, a liar, a person who lives a parallel reality made of imaginary murders and criminal deeds, the result of her imagination. Miranda absorbs, in a perverse and sick vortex, the typical and contemporary youth interests: Internet, TV series characters, videogames (Dark Souls, Silent Hill, Skyrim), sex, elements that, not by chance, we find in her criminal stories. Some say that she also suffered the influence and charm of Israel Keyes, a serial killer also operating in Alaska, who killed himself on December 2, 2012, at the age of 34, at the Anchorage Correctional Complex.
Elements, therefore, absorbed, processed and reset to produce criminal stories and episodes that are unlikely to have happened. An ambiguity, however, disturbing: the viewer of this horror screenplay does not know where the reality ends and where the fiction begins.
Miranda, on November 10, 2012, wrote to Phil McGraw, psychologist, author and TV host of the program "Dr. Phil". The psychologist, after the known crimes, will host Elizabeth and Ashley, respectively mother and sister of Miranda. In the e-mail sent to McGraw, Miranda pointed her finger at her mother, calling her "pill-popping drunk". She is accused of dating men who she met on the Internet and having them come home. She also says she has cancer.
Between truth and invention, Miranda projects her own problems and pathology onto her mother. A cry for help, imbued, however, with devious malice: according to Miranda, her mother is the cause of all her evils.
Dear Dr. Phil,

Ever since my parents got divorced my mom has become a pill popping drunk. She meets random men off the internet and has them come over. They send her stuff to our home address. She also claims to have stage 3 cancer, but won't stop drinking or taking all the pills. She doesn't care to live anymore. She tells my sister and me that every day. She also just had two seizures and now has a seizure disorder and still doesn't care to change her behaviors. She's so verballing abusive and it hurts so much. I just want my mom. I'm 17 and pregnant and my sister is 20 and engaged. If things keep going the way they are she's going to kill herself. I'm at a loss of how to help her. She's in denial about everything I"m begging for help, please. Thank you for listening.

– Miranda
The case of the Barbour couple is increasingly transformed into a television show, capable of thrilling and dividing public opinion in the United States. The protagonists of the story look like actors in a TV show, they act and interact almost following a script.
The investigators, moreover, affirm that there are no traces of satanic sects active in Alaska, a detail that clashes with what Miranda claims: the satanic sect, the self-styled leader named Forrest, the murder of a moneylender at the age of 13. Are these elements also the result of Miranda's altered imagination? Probably, yes. Peter Howard Gilmore, heir of Anton LaVey at the head of the Church of Satan, also cleared the field of these inferences: his Church never came into contact with the Barbour spouses, asserting, furthermore, that the investigations will prove the total groundlessness of the link between the so-called Satanic sects active in Alaska and Miranda Barbour.
And here comes the circle. TV, Internet, video games, drugs, sex, a well-known website to lure the unfortunate victim. The criminal story of Miranda and Elytte Barbour is the product of our times, of modernity. Times in which reality and fiction mix, television series and video games cross their virtual dimension until they blend with everyday life, the latter torn and marked in a deep and incurable way by sexual abuse.
And perhaps it is precisely this mixture that gives the case of Miranda Barbour that feeling of unease. A case probably solved but still able to arouse and raise doubts and questions.