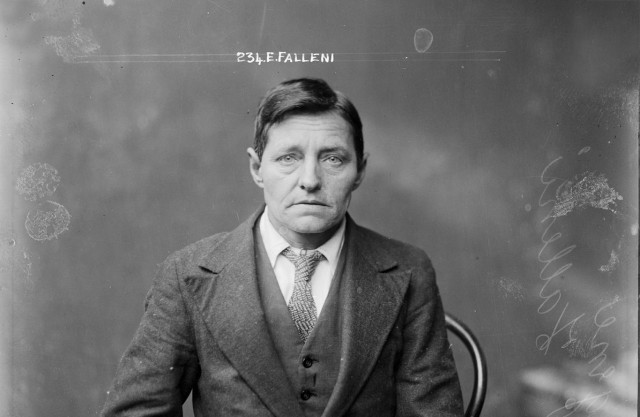 Eugenia Falleni changed its name in Eugene Falleni and lived as a man. She was arrested for the murder of her wife after she had discovered her true identity.
Short biography of Eugenia Falleni
Eugenia was born near Livorno (according to some, she was born in Florence instead) and was the oldest of 22 brothers.
In 1877, when she was two, her family emigrated to Wellington, New Zealand. Her father, a very strict man, found work as a wagons driver and fisherman.
Eugenia once a teenager began to dress like a man and found work in a brick factory and in a stable.
During these years, Eugenia, continuing to wear men clothes, she left home to become a ship's boy and took the name of Eugene, the man's version of Eugenia. 
Her family did not make a lot of effort to search for the daughter because she had always been a wild child and did not approve of her behavior.
Marriage in Australia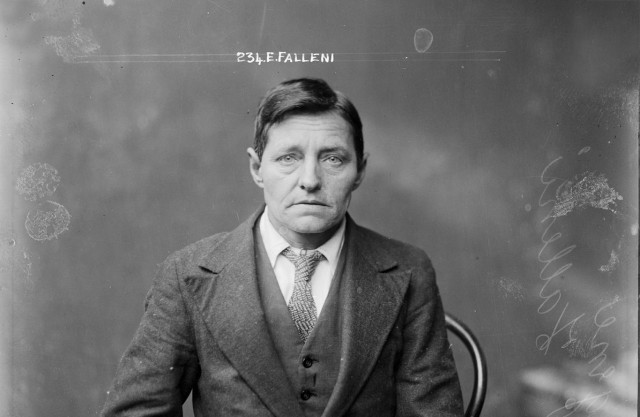 After several years at sea, in 1898, the captain of the ship where she worked as a ship's boy discovered that she was a woman.
She was the one to reveal it while she was drunk: she was speaking of her childhood to the captain and told him that her grandmother often called her "baby girl".
Noticing the error she tried to make up for it but the captain, suspicious, investigated the issue.
After discovering that Eugene was actually a woman he repeatedly raped her and then fired her, leaving her at the next port, in Australia, as having women on board was synonymous of misfortune.
After the rapes she became pregnant, Eugenia gave birth to a girl, Josephine Crawford Falleni, whom she left at the care of an Italian woman, Madame De Angeles.
She went back to her masculine identity by changing her name to Harry Leo Crawford and visited her daughter only sporadically. Josephine grew by calling Ms. De Angeles "grandmother" and in the belief that her father was the captain of a ship.
After several jobs, in 1912, Falleni began to work for Dr. GRC Clarke as a chariot driver.
There she met his housekeeper, Annie Birkett, and fell in love with her. 
Annie was a widow with a thirteen-year-old son on her shoulders, Harry, and she was flattered by Falleni's attentions as "he" was courting her ignoring other women.
Annie soon left her job at Dr. Clarke to open a small candy shop and Falleni followed her, taking an interest in the store.
In 1913 the two got married and Falleni began working in some hotels and factories in various capacities. Annie did not seem to be aware of the true sex of Falleni.
Annie's death and remarriage
In 1917, a neighbor told Annie that her husband was actually a woman. Annie, who didn't have the slightest suspect, asked her husband for an explanation but Falleni denied everything.
It seems that the woman was considering the possibility of divorce, while Falleni did not want the relationship to end.
On October of the same year, Annie proposed to her husband to go on a picnic. Once they arrived on the scene the couple began to quarrel and Annie suddenly slipped and fell, hitting her head on a stone.
Falleni tried everything to revive her but she died. There being no witnesses who could confirm his version, Falleni went into panic thinking that if she told the police they would arrest her and discovered her true identity.
She decided to burn Annie's body to make it unrecognizable. 
The body was found a few days later and an autopsy revealed that the body was charred, with no signs of violence and no alcohol in the system and that death had come probably because of the burns.
The death was classified as suicide because in the place of the discovery a bottle of kerosene had been found and the woman had been seen "acting strangely".
The body was not identified and Falleni told her stepson Harry and neighbors that Annie had run off with another man.
In 1919 she met Elizabeth King Allison called Lizzie, fell in love with her and the two got married in September of that year.
In 1920 Annie's son visited her aunt and told her some things that made her suspicious so she called the police.
Harry told the police that one day his mother disappeared and Falleni took him to the place where the charred body was later found. 
A week later Falleni led him, at night, in a place covered with brushwood and made him dig a hole. Then they went back home.
The arrest and death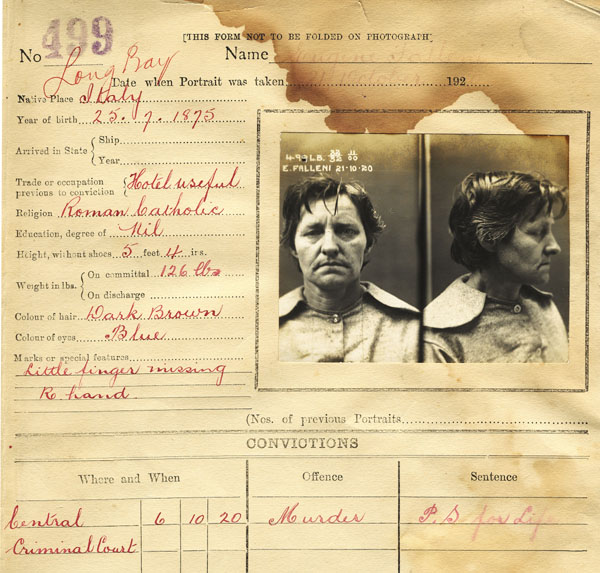 Following these statements Falleni was arrested on July 5, 1920 and asked to be put in the cells reserved for women. She also asked not to reveal to her wife Lizzie that she was in fact a woman.
During the search of her home, police found an "item" locked in a suitcase, later shown during the trial. It was made of wood and rubber and had the shape of a phallus.
The wife, Lizzie, said that Falleni was a model husband and that their marriage was perfect. She was, however, forced to move house because of the incredible attention the news was receiving.
The exhumation of Annie's body was ordered, but the second autopsy revealed nothing new. The body was then returned to the family for burial.
Josephine, the daughter of Falleni, was tracked down and she released some of her memories of her mother.
She said that after the death of Mrs. De Angeles she came to pick her up and they lived together in Annie's house. She did not know they were married, but she saw them sleeping in the same room.
Falleni had told her that Annie had money and she did not know that she was a woman. Josephine then told her that sooner or later she would find out.
Josephine went home but after some time she met Falleni again, who told her that Annie had discovered that she was actually a woman. Josephine added that she had looked very flustered but said no more.
During the trial it was also pointed out as Falleni had managed to deceive two women, making them think she was a man, and showed the phallus found in her house.
Falleni was found guilty of the murder of Annie and sentenced to life imprisonment despite many criticisms of the process.
There was no evidence that the charred body was Annie's and there was no evidence that Falleni had killed her. The process, however, raised the curiosity of the media and the press, which painted Falleni as a monster and a pervert.
After several petitions filed from Falleni's friends, she was released in 1931 on the grounds that she was almost 60 years and was not of strong build. 
She changed her name to Mrs Jean Ford and became the owner of a pension. In 1938 she died in an accident and was buried with her last name.