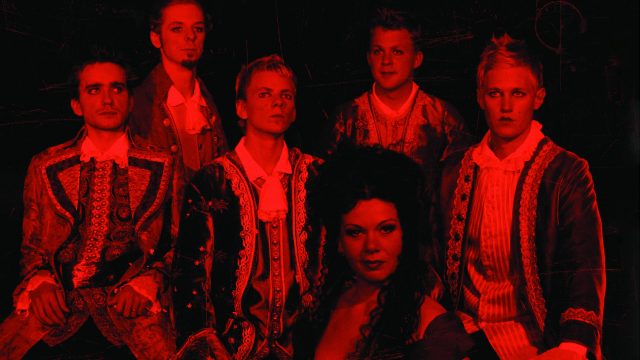 Diablo Swing Orchestra is a Swedish metal group that combines the aggressive sound of the genre with the festive atmosphere of the '20s. If you've loved both The Great Gatsby and the Exorcist, this band will be a real treat for your ears.
Diablo Swing Orchestra: between history and legend
The Diablo Swing Orchestra explained, at the dawn of their debut in 2003, that the name of the group owes its origin to an ancient Swedish legend. In the 16th century, an orchestra around Stockholm was performing anticlerical compositions. Symphonies that destroyed the canons of sacred music. These are the years of the Inquisition, of torture, of fire. The musicians, thanks to the support of the oppressed people, continued to play in secret. But soon the Holy Inquisition put a price on their head. The reward arrived at exorbitant figures and the orchestra, now resigned to its fate, performed one last grand finale, before ascending to the pillory.
In the last moments before saying goodbye, the musicians swore that five hundred years later the orchestra would have to reform. Whether by a pact with the devil or by coincidence, the Diablo Swing Orchestra hypnotized the 2000s with their originality.
A Martini, the Requiem of Mozart and Swing!
Swing is a musical genre born in the '20s and famous for its fast and jumping rhythm. The Diablo Swing Orchestra stands out for their versatility. Their songs invite you to jump out of the chair and start moving your feet and they combine, in a first phase, the crystalline voice of AnnLouice Lögdlund, lyrical soprano.
The Diablo Swing Orchestra cannot help but try unusual combinations. Digging into their discography, you'll find flamenco-style pizzicato tracks, jazz cadences and folk rhythms. All this without forgetting the "strong" component of the bass and the lashings of metal that support this sumptuous musical structure.
A gothic fun
The songs of the Diablo Swing Orchestra are already striking from the title. Gothic and disturbing elements come close to the words "chic" and sugary: Porcelain Judas, Vodoo Mon Amour, Gunpowder Chant. We talk about death and love, alcohol and poverty, legends and superstitions. We find the London Royal Asylum and a lightning strike, all masks that come down one after another, like the scratching duets of the soprano and Daniel Håkansson.
The band members themselves say they want to entertain their listeners, whatever genre they belong to. They have composed in Italian, in English, in their mother tongue. They were inspired by the mortuary culture of Mexico, the dark romance of France, the sparkle of New York.  A bit of healthy self-parody, for a group that, instead, enjoys a professionalism and a ductility out of the ordinary.