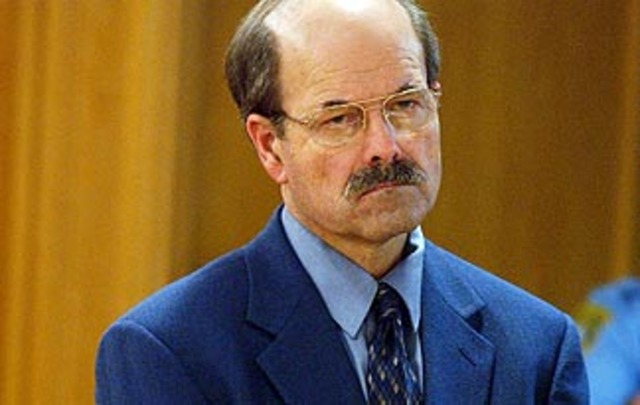 Dennis Rader is an American serial killer who is now in prison for the murder of 10 people. His nickname stands for Bind, Torture, Kill. His victims were in fact tied up and tortured before being killed.
Biographical notes
Dennis grew up in the city of Wichita, the same city where he later carried out his murders.
As a child, like many serial killers he tortured animals and had a fetish for women's underwear.
He stole undergarments from of his victims' crime scenes and then wore them at a later time.
His life spent fairly quiet, he served his country in the Air Force, graduated and married in 1971 with Paula Dietz, who gave him two children.
From 1974 to 1988 he worked in a security firm, installing alarms, and
ironically many people worried that the BTK killer could enter their houses just called the company where he worked to get alarms installed in their houses.
Victims

His victims were ten, four of which belonged to the same family: father, mother and two sons aged 9 and 11.
1974: Family Otero (Joseph Otero, his wife Julie Otero and two of their five children: Joseph Otero II and Josephine Otero)
1974: Kathryn Bright
1977: Shirley Vian
1977: Nancy Fox
1985: Marine Hedge
1986: Vicki Wegerle
1991: Delores Davis
His modus operandi was more or less the same: he loved to strangle or choke his victims and torture them before killing them, as this gave him sexual pleasure.
During his trial he told how he killed the Otero family members. He said he waited for them to come back home and that he thought there were only his wife and two children, however her husband was there too. He waited in the back of the house and when they opened the back door to take the dog out, he went in.
He began to say he was a wanted man, pulled out a gun and said he wanted the car keys and food. The dog came back and began to bark, this made Dennis nervous and had the dog brought out. Then he took the family in the bedroom, upstairs and tied their hands and feet.
At that moment he realized that his face was not covered and realized that his victims would have recognized him. It was then that he decided to kill them. 
First, he put a plastic bag over the head of the household head, holding it to his neck with a rope. When the man passed out he thought he was dead and then started to strangle the woman, until she fainted. He noticed that the man was still alive and had a hole in the plastic bag so he put another bag on top of the broken one and made him choke to death. Then he strangled his daughter and she fainted. Meanwhile Mrs. Otero got back to her senses and, seeing that the only conscious one was her son, begged Dennis to spare him. Dennis killed Mrs. Otero then her son. When the daughter woke up he took her to the basement and hang her from a pipe.
 He confessed to the judge to have experienced sexual pleasure after the child died.
He also confessed that one of his potential victims was saved when she returned home late. He had gone into her house and was waiting for her. She had gone to visit friends and stayed late from them. After waiting a few hours, he gave up and went away angry.
Letters to the press
Dennis began to write letters to the newspapers. In one of them he complained that no one was talking about him on the news and said that all the murders in Wichita had been his work.
At the end of the letter he also suggested various nicknames including: B.T.K. Strangler, Wichita Strangler, Poetic Strangler, Bondage Strangler, Psycho, Wichita Executioner, Wichita Hangman, Garrote Phantom and Asphixiator.
In 1988 a family of three people was killed and Dennis sent a letter to a newspaper in which he said he was not the author of that crime. After his arrest it was proven that indeed it had not been him.
Arrest
His last murder happened in 1991 and in 2004 the case had become a cold case. In 2004, however, Dennis began to get in touch with some newspapers and television studios via 11 letters. In one of them he claimed to be the author of the murder of Vicki Vegerleon 16 September 1986 and the letter was sent along with some photos of the crime scene and a photocopy of the victim's driving license, stolen during the murder and never found by the police. Throughout 2004 he sent television studios and the police letters and parcels containing various items and newspapers.
In one of these letters the BTK killer asked if it was safe for him to send the letters via floppy disk. The police responded with a newspaper article, saying that it was safe. In February 2005, Dennis sent a floppy disk in which the police found metadata containing a deleted Word file. The file was called "Lutheran Church" and had been modified by a user called Dennis. From the research it emerged that Dennis Rader was president of the church council. Other clues led the police to believe that Dennis could be the killer, but they needed hard evidence.
Then they used the DNA of Dennis's daughter, recovered from an old smear test, and compared it with the DNA found under the fingernails of some victims. The DNA fitted and this was the final proof.
Dennis was arrested on February 25, 2005 on his way home. At the trial he was sentenced to 10 consecutive life terms.
You want to know every detail of the BTK killer story? Every detail of his tortures, his killings and his mental state? That's the book for you
Bind, Torture, Kill: The Inside Story of BTK, the Serial Killer Next Door
A book written by the crime reporters who covered his story from the beginning. The most complete book written on Dennis Rader, with the cooperation of the Wichita Police Department's BTK Task Force. 
My Boss was the BTK Killer… I was the Next Victim
The chilling story of one of Rader's employees who was meant to be her 11th victim. The BTK killer confessed to have targeted her as his next victim.
Here are some photos of crime scenes and reconstructions of crimes carried out by Dennis himself.